TestoTEK™ Testosterone Support v3.0
Many ingredients, including vitamins and herbs have been studied for their ability to help support the body's natural testosterone levels. TestoTEK™ uses 12 of the most popular ingredients that may help support muscle growth and fat loss in the body when combined with an appropriate diet and regular exercise.**
Help enhance the way you look, feel and perform by optimizing your body's natural testosterone levels with TestoTEK™**
TestoTEK™ Can Help…
TestoTEK™
can help support your body's natural testosterone levels, through its plant-based ingredient formula. Simply take two capsules a day and eat according to your caloric needs and hit the weights.
**
Help optimize your body's testosterone for a daily cost less than a designer cup of coffee.
Buy In Bulk and SAVE Big!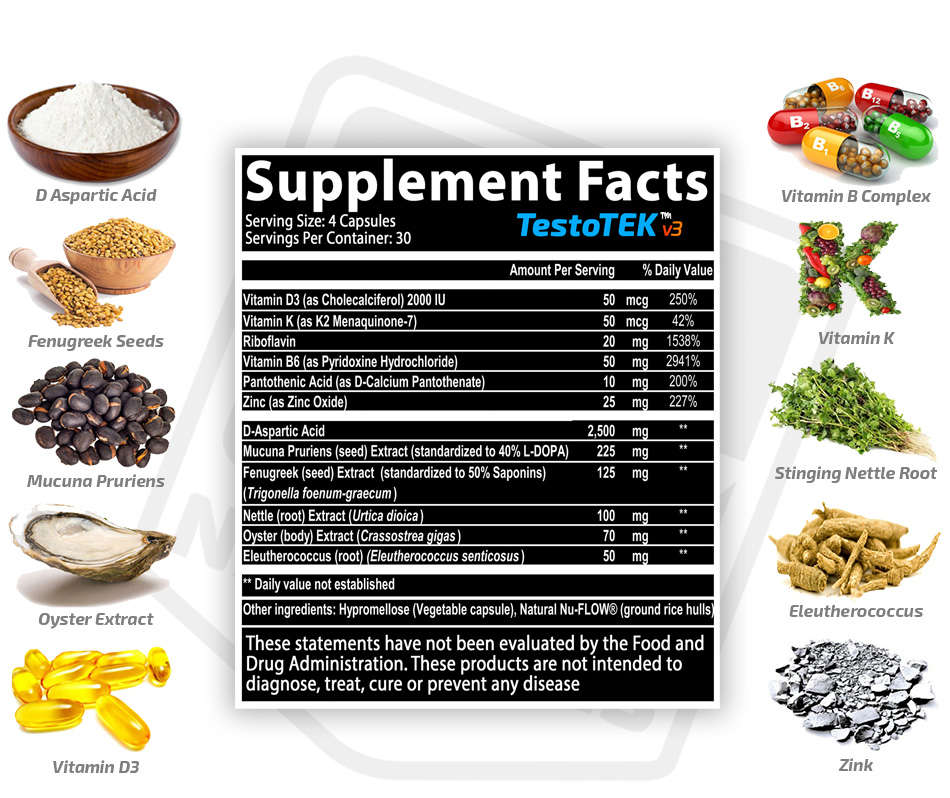 **These statements have not been evaluated by the Food and Drug Administration. These products are not intended to diagnose, treat, cure or prevent any disease.
This product is intended for healthy male
adults 18 years of age and older. Do not take if you are pregnant, nursing, if
you have or suspect you may have any medical condition or if you are taking any
prescription or over-the-counter medications. Consult with a qualified
healthcare professional and read the product directions before use. Immediately
discontinue use and seek medical attention if you experience any adverse
reactions. KEEP OUT OF REACH OF CHILDREN.


TestoTEK should be combined with a healthy calorie reduced diet and regular exercise in order to achieve fat loss and lean muscle.